Dodon is a 555 acre working family farm, the largest in Anne Arundel County.
The property was first purchased by our family from Nicholas Carroll in 1725 by Dr. George H. Steuart of Argaty, Perthshire, Scotland. Nine consecutive generations of Steuarts (now Pittmans) have since lived and worked at Dodon. In the intervening years, Dodon was home to Charles Steuart, who rode with George Washington during the siege at Yorktown; George H. Steuart, who led the Maryland Horse Militia during the War of 1812; and Richard Sprigg Steuart, who used funds from the sale to Johns Hopkins of property at the corner of Monument and Wolfe streets in Baltimore to establish Maryland's first public mental health specialty hospital at Spring Grove. In 1890, Dodon was donated to the Catholic Church. It was used as a seminary and a retreat until 1929, when the Cardinal of Baltimore concluded it was too remote and negotiated the sale of the property back to family.
Dodon produced Oronoco tobacco, a variety that is said to be preferred on the European continent. In the 1960's, tobacco's run at Dodon ended with the move to livestock and row crops. In its current configuration, Dodon is composed of roughly 400 acres of woodland, 65 acres of pasture, 65 acres of cropland, 16 acres of vineyards and 15 acres of "farmstead" – houses, barns, sheds, roads, and other non-tillable areas.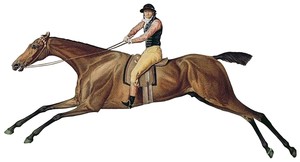 Dodon's history is also inexorably linked to thoroughbreds. In May 1743, Dodon's stallion Dungannon, imported to compete against the Charles Carroll stable, won the Annapolis Subscription Plate, the first recorded formal horse race in Maryland. The trophy, a silver bowl that is the oldest surviving silver object minted in Maryland and the second oldest horse racing trophy in America, is on display in the Baltimore Museum of Art. For the next 270 years, horses remained an important part of the landscape at Dodon. Most recently, the Dodon Farm Training Center, operated by Steuart Pittman Jr. until his election as Anne Arundel County Executive, specialized in transforming retired race horses into successful three-day eventers .
Today, the seven members of the eighth generation of the family share ownership of Dodon. As guardians of the property, they take seriously the responsibility to enhance the environment of the farm and preserve its agricultural heritage. To help achieve this goal, they, along with their parents Steuart and Barbara Pittman, placed in 1999 most of the farm in easement with the Maryland Agricultural Land Preservation Foundation.
Stay In Touch
We resepct your privacy.